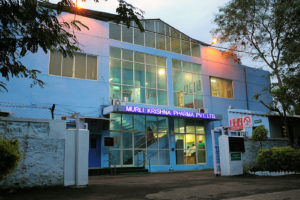 Murli Krishna Pharma has a state of the art manufacturing unit located at Ranjangaon, which is at a distance of 225 Kms from Mumbai. The unit is located in a five star industrial estate that has been provided with excellent infrastructure facility. The operational facility is designed to comply with cGMP guidelines for development and manufacturing of Semi-Finished formulations. The plant has been audited & approved for GMP compliance as per ICH guidelines & Manufacturing by European Union (EU), WHO-GMP; vide statutory site audits by Indian FDA, Local GMP issued by FDA.
The GMP Area is equipped with eleven Air handling units. Production area is rated at class 100K. The Microbiology Department is equipped with a separate Air Handling Unit and rated as Class 10. The layout is designed to meet the Requirements of US FDA / PICS / WHO / requirements. The unit is equipped with CGMP compliant equipment and the unit operations are automated to the optimal extent.
Internal and external audits are carried out regularly to ensure that our manufacturing practices conform to cGMP requirements at all times.
The factory is equipped with the most modern machinery and facilities. Highest priority to quality control and adequate precautions are taken to ensure that there are no lapses on the production front. The QC lab & QA staffs closely and constantly monitor every stage of production, to assure compliance of established protocols and consistent high quality end products.
We use Fluid bed coaters for carrying out our coating operations. The process is backed by an excellent analytical department, which is equipped with 21 CFR, part 11 compliant instruments. Strong regulatory skills and well equipped R&D Centre manned by over 15 trained scientists and 100 trained personnel.
We believe in continuous & sustainable improvement and hence adding values to the Company every day. The Head Office is located in Powai area which is in the vicinity of both the domestic as well as international airports.
Murli Krishna Pharma's strength lies in its ability to provide a tailored solution to fulfil the specific needs of its customers in question. Our "after-deliverance of technology" service includes problem solving and trouble shooting at customer's site.